< previous entry return to list next entry >
Memories of Grandfather's Ranch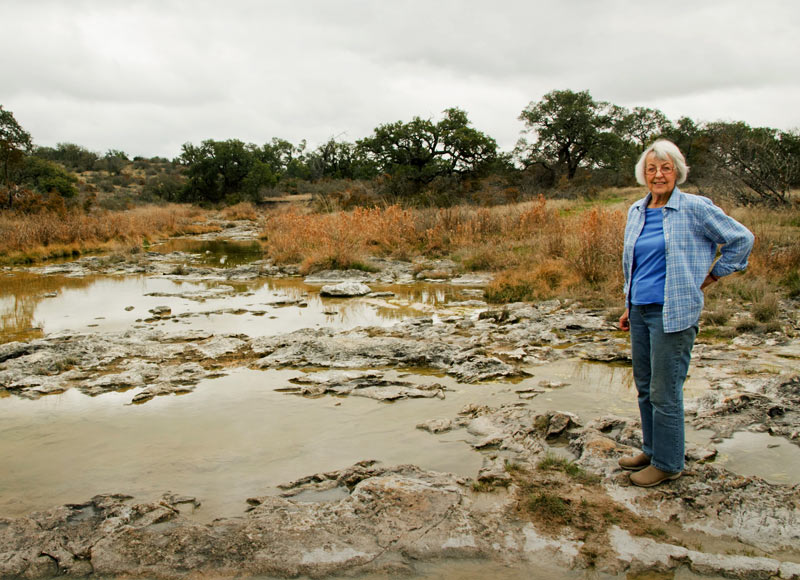 Betsy Bouchard put her land in a conservation easement with the Hill Country Land Trust in 2007. Her reasons ring true with many landowners and we asked her to share them with you...
My grandfather, who bought the ranch in 1929, used to bring the family together for his birthday. As we gathered for a photo, he would intone, "Four generations!" Since my great-grandmother was a pioneer, I think he was proud to have four generations within easy travel distance. There we were, my tiny great-grandmother at the top level, and my brothers and sisters and I on the bottom rungs. Since that time, there have been two more generations that gather at the ranch, even though it has been divided nine ways since that photo was taken. The time has flown... it seems like yesterday.
The ranch, with its sleeping porch that packed in eleven beds, gave us a way to get together regularly. For us children, it brought the wildest of freedoms and the comfort of extended family. We wanted to preserve that experience for our kids and their kids, if they wanted it. My sister, Maggie, younger brother, Rusty, and I decided to use a conservation easement as a way to preserve our three adjoining ranches. We wanted to keep family history and experiences fresh, and nothing is better for that than a place with vivid and shared childhood experiences.
As developments began to spring up around us, we wanted to protect the open land, the abundant wildlife, the ranching and hunting that made up the traditional ways of life in our rugged part of the Hill Country. Nobody makes a living from our ranches now, but we protect the native grasses and wildflowers as if we did. Having them protected in a land trust will also help the next generation keep them by lowering the inheritance tax on land that can't be developed.
Everyone who is fortunate enough to have access to open land knows what lessons it offers. It is my privilege to be able to conserve it. - Betsy Bouchard
posted on 3/26/2016