< previous entry return to list next entry >
Spring Outreach Events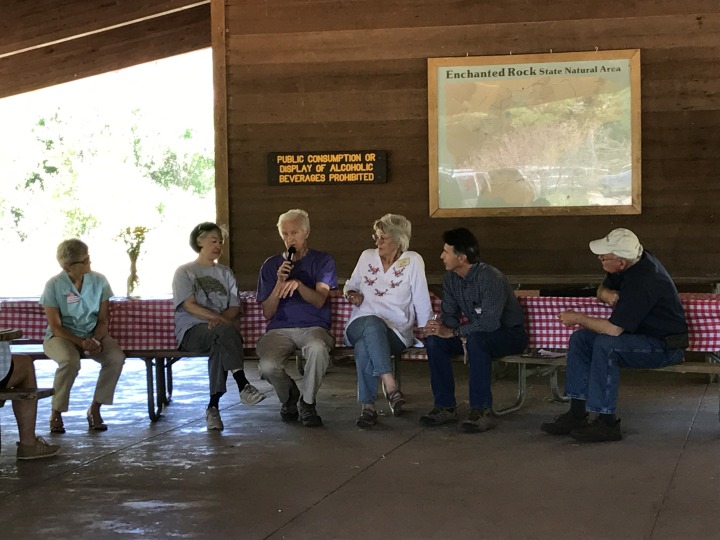 The Hill Country Land Trust has been busy hosting outreach events this spring, connecting people to the lands we love.

In April, we hosted a Stream Side Workshop with former HCLT board member Steve Nelle. In addition to talking about what makes for a healthy creek in the Hill Country, Steve pointed out critical stream side plants and discussed the biggest threats to our waters. Did you know that an excessive deer population can wreak havoc on baby trees and woody plants, seriously impacting creek function? Our workshop ended with a picnic lunch alongside an incredible Hill Country watering hole and further conversation about how we can each work to protect Hill Country waters.

Didn't get to make it to this workshop? Fear not! We are working with a professional film crew to create another one of our incredible video series. See our other instructional videos by clicking here.

On May 7th, HCLT joined forces with the Friends of Enchanted Rock State Natural Area and the Texas Parks and Wildlife Department to host our annual ERock BBQ. More than 30 neighbors joined us to hear about the latest updates from Enchanted Rock Superintendent Doug Cochran. We learned that visitation to the park topped 344 thousand last year!! The priority for this year is to institute visitation calming procedures that will protect this natural resource for future generations.

We also heard from HCLT easement donors about their decision to permanently protect their land in partnership with the land trust. Betsy Bouchard, Kay and John Flowers, Bob Weirich and Errol Candy spoke about what inspired them to donate their easements, and why they'd recommend it to their neighbors.

Can you picture a 10-story resort being built within the view shed of Enchanted Rock? Conservation easements are one tool that can ensure that the land around the park that is currently wide open and rural stays that way. We will continue prioritizing the area around Enchanted Rock for permanent protections.

Don't miss out on our exciting events. Subscribe to our email list in the right hand bar.
posted on 5/16/2017