< previous entry return to list next entry >
Save the Date - Saturday, November 9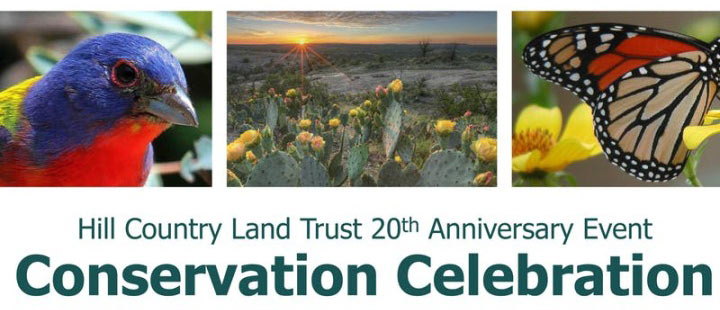 Join us for our 20th Anniversary Event: Conservation Celebration. The Conservation Celebration recognizes the founders and key stakeholders in our organization and works to raise funds to ensure a bright future for the Hill Country Land Trust mission.
The Conservation Celebration will take place on Saturday, November 9 from 5 to 8pm in Fredericksburg at the Gilbriar Gazebo event venue and will feature a short program, silent auction, games, music, and more.
Since 1999, HCLT has protected hill country agricultural lands, waterways and wildlife habitat from subdivision and development in partnership with private landowners. Conservation easements on these lands are voluntary legal agreements that ensure the property will forever be managed according to the landowner's wishes. Landowners who place their property into a conservation easement with HCLT know that the terms of the agreement will be protected in perpetuity.
**Heavy hors d'voures and drinks will be provided; this is not a sit-down dinner.
Sponsorship Opportunities
Sponsorships are available ranging from the $250 Friend level to the $2,500 Conservationist level. Purchase your sponsorship online or contact Kim Hatfield at office@hillcountrylandtrust.org to learn more. Sign up to be a sponsor here.

posted on 6/26/2019