< previous entry return to list next entry >
Hill Country Land Trust Seeks Accreditation Renewal: Stakeholder Notification/Public Notice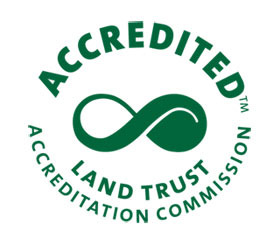 The Hill Country Land Trust (HCLT) is pleased to announce it is applying for renewal of accreditation from the Land Trust Accreditation Commission. The land trust accreditation program recognizes land conservation organizations that meet national quality standards for protecting important natural places and working lands forever. A public comment period, in which members of the public may comment on HCLT's renewal application, is now open.
The Land Trust Accreditation Commission is an independent program of the Land Trust Alliance, a national organization supporting more than 1,000 land trusts across the country. As a part of the renewal process, the Commission conducts an extensive review of each applicant's policies and programs. HCLT's status as an accredited land trust assures our stakeholders that our organization is guided by nationally recognized standard policies and procedures, and that our ability to accept and monitor land easements is among the best in the state and country.
HCLT was among the first land trusts in the State of Texas to receive accreditation when we completed the process in 2013. The accreditation is awarded for a five-year term. Renewal offers an opportunity to evaluate our programs and policies, confirm compliance with accreditation indicators and requirements, and to provide an opportunity for HCLT to reflect evolving best practices in the land conservation field.
The Commission invites public input and accepts signed, written comments on all pending applications. Comments must relate to how the Hill Country Land Trust complies with national quality standards. These standards address the ethical and technical operation of a land trust. For the full list of standards, you can visit http://www.landtrustaccreditation.org/help-and-resources/indicator-practices.
To submit a comment or learn more about the accreditation program, visit www.landtrustaccreditation.org. You may submit your comments through any of the following means:
- Email: You may email your comment to info@landtrustaccreditation.org.
- Fax: Comments may also be faxed to the Land Trust Accreditation Commission, Attn: Public Comments: 518-587-3183.
- Mail: You may mail your comments to the Land Trust Accreditation Commission, Attn: Public Comments: 36 Phila Street, Suite 2, Saratoga Springs, NY 12866.
Comments on HCLT's application will be most useful by December 31, 2017.
Thank you for your ongoing support of our organization!
posted on 8/15/2017