< previous entry return to list next entry >
HCLT Seeks Executive Director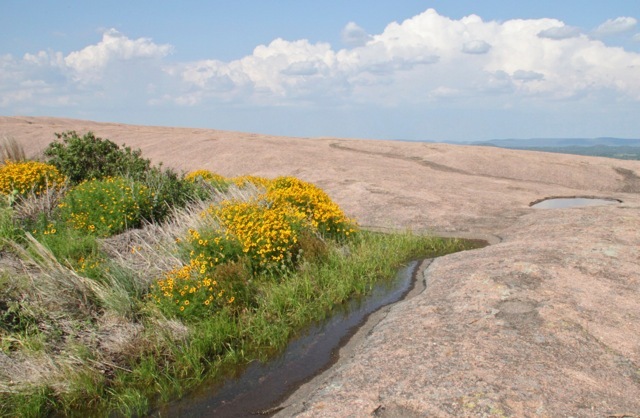 HILL COUNTRY LAND TRUST MISSION
The Hill Country Land Trust (HCLT) is a private, non-profit 501(c)(3) organization incorporated in 1999. HCLT is a volunteer-based organization, committed to conserving and protecting the agricultural lands, wildlife habitat, scenic beauty, and watersheds in a 19-county area of the Texas Hill Country for present and future generations. HCLT is an accredited land trust, committed to compliance and operation according to the Land Trust Alliance Standards and Practices.
JOB TITLE: Executive Director.
The Hill Country Land Trust seeks a dynamic candidate for executive director, willing to work across all aspects of nonprofit management. The executive director handles the day-to-day operation of HCLT, and serves as the public face of the organization. In addition to ensuring HCLT's legal and ethical obligations as a charitable organization are upheld on an ongoing basis, the executive director will work with an engaged and accomplished board and passionate landowner partners to conserve the unique and beautiful landscapes of Central Texas.
LOCATION: The HCLT office is in Fredericksburg, Texas.
SUMMARY OF POSITION: The executive director works under the guidance of the board president and in consultation with the full board of directors and board committees. Primary responsibilities include fundraising, public outreach and education, event planning, management of our land conservation and stewardship programs, and financial management. The executive director will also have the responsibility to work with conservation easement donors, manage volunteers, and staff.
JOB RESPONSIBILITIES:
General Operations and Nonprofit Compliance

Direct and conduct organizational and office management functions, including the preparation and management of financial transactions, budgets, reports, and strategic plans.
Ensure compliance with HCLT organizational policies
Perform financial and asset management duties per HCLT guidelines.
Hire, supervise, motivate and develop staff, in coordination with board of directors.
Recruit, manage and work effectively with volunteers.
Provide support to the board of directors, its officers and committees. With the president, compose all agendas for board and executive committee meetings.
Work with the president and the board to ensure implementation of LTA standards and practices, and guide the organization through successful Land Trust Accreditation Commission accreditation renewal.
Work with the board to recruit quality board members and committee members.

Fundraising

Develop and implement marketing and fundraising strategy.
Lead the board in fundraising activities, including seeking financial support through foundation grants, donations from individuals, corporations, and partnerships with public agencies.
Ensure internal fundraising databases and tracking resources are appropriate, utilized and regularly maintained and updated.
Outreach and Communications

Develop public communications program including publication of newsletters, news releases, web site, social media and informational materials.
Develop collaborative relationships with local, regional, and state conservation agencies and organizations.
Organize meetings, outreach events, and workshops, and give presentations about HCLT.

Land Conservation and Stewardship

Oversee program to conserve land in the Hill Country of Texas, primarily through the use of voluntary conservation easements, stewardship and annual monitoring of those easements.
Build and maintain positive personal relationships with existing and potential easement donors.
Build partnerships with other land trusts and organizations working in HCLT focus area to increase conservation in the Hill Country.
QUALIFICATIONS:
Undergraduate degree required, preferably in a natural resources field, business or public administration, or a related field. Advanced degree preferred.
3-5 years of relevant work experience in resource management, business, non-profit management, fundraising, land conservation and natural resource management, real estate, communications, marketing, or a related field.
Proven development and fundraising skills, nonprofit management, and grant writing experience.
Strong written and verbal communication skills.
Ability to interact well with a wide variety of people, including landowners, government officials, the press, scientists, donors, the general public, and a diverse board of directors.
Ability to manage, motivate, and direct staff and volunteers.
Ability to combine sound business sense and judgment with a strong commitment to the protection of the unique ecological, scenic and diminishing natural resources of the Texas Hill Country.
Proficiency with computer applications and office systems.
Must possess a valid driver's license and own a personal vehicle to carry out duties related to the job.
WORKING ENVIRONMENT: HCLT's offices are in Fredericksburg, and the executive director will be expected to keep regular office hours. This is a full-time, exempt position. Some evening and weekend work will be necessary at times, with flexibility to balance a 40-hour work week schedule.
Travel will be required to meetings, speaking engagements, workshops, and other events. HCLT will provide reimbursement of business expenses associated with the carrying out of HCLT duties.
COMPENSATION & BENEFITS: Compensation is commensurate with education and experience.
Benefits include two weeks of vacation and all major holidays will be paid time off. Amazing Hill Country experiences and the opportunity to work with a network of support in the form of HCLT board members, landowners, donors and partner organizations. HCLT does not currently offer health or retirement benefits.
APPLICATION PROCEDURE: Send cover letter, list of three references (including phone # and email address), and resume to Scott Gardner, HCLT President, via e-mail at office@HillCountryLandTrust.org or call 830-997-0027 for more information. Applications will be reviewed as they are received, though applicants are encouraged to apply by May 14, 2017. The position will remain open until filled.
The Hill Country Land Trust is an equal opportunity employer. Applicants will be considered without regard to their race, color, sex, national origin, religion, disability, age, sexual orientation, or parental status.
posted on 4/19/2017