< previous entry return to list next entry >
HCLT Releases 6th Stewardship Video: Managing Healthy Waterways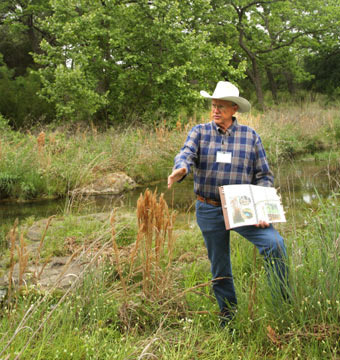 This spring Hill Country Land Trust hosted a Field Day on healthy Riparian Zones. Our host, Steve Nelle, walked participants along a natural riparian zone (the area of land along a waterway), showing us how to read the health of this particularly important part of our Texas waterways. HCLT has now released the highlights from that field day in a film: Riparian Zone Management (Managing Healthy Waterways).
Healthy, well-vegetated, well-managed riparian areas benefit all Texans in several ways. They help reduce the erosive forces of floodwater by slowing down the water so it can spread out across the floodplain where it soaks back in to the alluvial water table, thus helping to sustain base flow during dry times. Other benefits include improved aquatic life, reduced water temperature in summer, improved water quality and improved forage, and wildlife habitat.

Riparian zones may occupy a very small percentage of the overall landscape, but their importance to sustaining the entire habitat and the creatures that live there requires a very special management and stewardship approach. In this video we take a look at what constitutes a healthy, well-functioning riparian area, and how landowners can better understand how to protect and enhance these valuable areas.
Watch this video to see how you can idenitfy the signs of a healthy waterway and what you can do to improve our Texas waterways. After watching, let us know what you think by submitting a question on the video page or by contacting the office at office@HillCountryLandTrust.org
posted on 6/30/2017