< previous entry return to list next entry >
Golden-cheeked Warbler is Back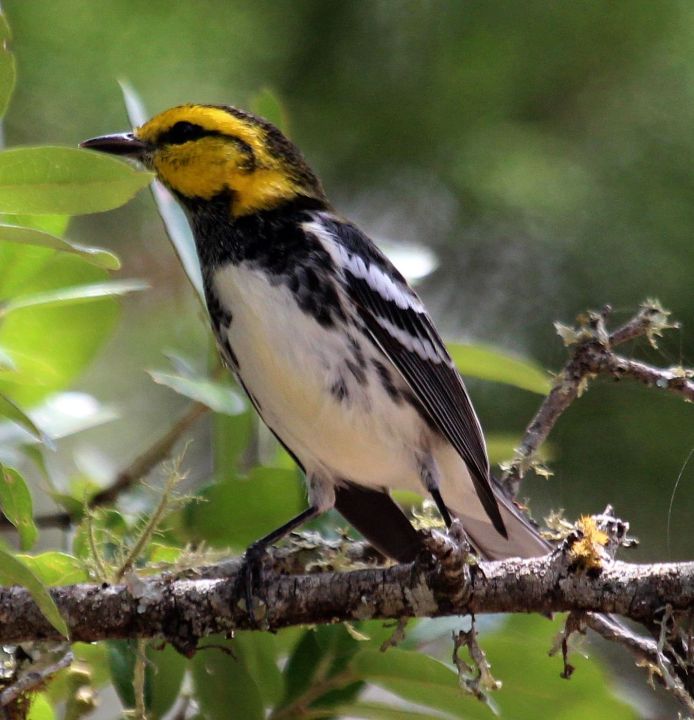 After reading this Blogpost from HCLT Board Member, Romey Swanson, head over to our videos page to see what you can do to help restore our native Hill Country Woodlands.
The Golden-cheeked's scientific name, Setophaga chrysoparia, translates to golden cheek moth eater; moth eater describing the genus which now includes most New World warblers. This federally endangered songbird is an attractive member of the wood-warbler family (Parulidae) and is a Texas breeding endemic. Golden-cheeked Warblers are overwhelmingly reliant upon that special Hill Country habitat association of mature juniper-hardwood forests, typically with high levels of canopy cover, a diverse deciduous component, and occurring along moderate to steep slopes.
Prime GCWA habitat is attractive and diverse and represents some of my favorite wooded parts of the Hill Country. These prime woodland habitats are often densely canopied and old-growth, occurring with an abundance of large attractive individual juniper, the kind of trees that are easy to appreciate as important natives instead of the noxious shrubs we regularly battle. The best GCWA habitat will hint at creeks and springs along the moist shaded slopes of valleys and ravines. These healthy forests are characterized by veins of rich dark soil high in organic material alternataing with exposed limestone ridges and fractures.
Historically, this species suffered as large areas of woodland were cleared throughout central Texas. The primary intent of this conversion was to increase the area of productive grasslands for livestock production. These intentions sorely misjudged the importance of the woodland structure in stabilizing the highly erodible underlying soils. Additionally, a terrible toll was taken on the reproductive success of GCWA by increasing populations of Brown-headed Cowbirds (BHCO). Female BHCOs are nest parasites which will routinely locate the nests of other breeding birds with the intent of removing one or more eggs (or chicks) and depositing eggs of its own. After hatching, the cowbird chick(s) grows quickly and usually dominates the surrogate parent's consideration; all of this to the detriment of the biological chicks.
Painting a bleak picture for the future of Golden-cheeked Warblers, Harry C. Oberholser, in his seminal work, The Birds of Texas*, opined "[the golden-cheek] and its cedar brakes are unlikely to reach the twenty-first century alive, but then, who is?".
Many populations of GCWA throughout the Hill Country appear stable but are continually challenged by the development of rural lands. Habitat loss, fragmentation, and degradation are generally considered to be the greatest ongoing challenges to the viability of the species, particularly along the eastern edge of the Edward's Plateau (roughly paralleling the I-35 corridor between Waco and San Antonio). The Endangered Species Act and the Migratory Bird Treaty Act provide strong federal protections for the species, complementary protections occur within Texas' own endangered species list, but these protections won't alone assure the perpetuity of the species in a state 95% privately owned and staunchly opposed to government regulation. The responsibility of protection ultimately resides on the landowner whom stewards the habitat these birds require to survive and reproduce.
Progressive fragmentation of regional ecosystems increasingly contributes to the dynamic challenges of wildlife management. It is well documented that the average Hill Country property is decreasing in acreage as more large ranches are reduced to inheritances, large tract subdivisions, or hobby ranches. Smaller farms and ranches don't necessarily present an insurmountable conservation challenge but the resultant mixed management of these smaller parcels, often variable and without coordinated conservation intent, can create substantial management challenges on a landscape or regional scale. This is particularly true in regards to the management of maturing and/or remnant old-growth juniper woodlands which necessitate a combination of education, appreciation, cooperation, and landscape-scale planning. Each landowner will have their own motivations and goals in ownership of property. In Texas we respect those motivations but what each landowner should ultimately consider in drawing up their goals is the relationship they want with the land. If a land ethic exists and the owner considers him or herself as much a steward as an owner, then one of the many important questions to answer will include "How does the management of my land interact with and among the surrounding ecological landscape?"
*The Birds of Texas was published posthumously in 1974 and represents a lifetime of work occurring over the first half of the 20th century.
posted on 3/24/2017