< previous entry return to list next entry >
Lone Star Land Steward Award Winners: Pam and Kim Bergman of Three Mile Ranch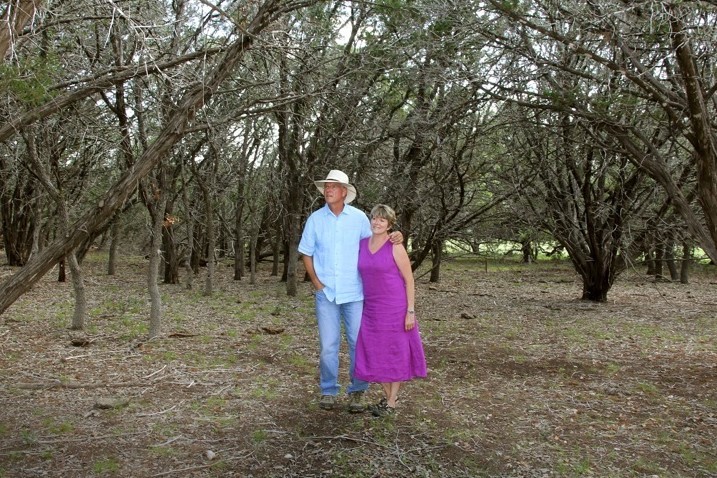 Hill Country Land Trust is proud to announce HCLT Conservation Easement donors, Pam and Kim Bergman, have won the Edwards Plateau Lone Star Land Steward Award.
The Lone Star Land Steward Awards are given each year by the Texas Parks and Wildlife Department and the nonprofit Texas Parks and Wildlife Foundation. This program is intended to recognize the important role private landowners play in the future of Texas' natural resources by honoring them for their accomplishments in habitat management and wildlife conservation. Because more than 94 percent of Texas lands are privately owned or operated, private landowners are the key to effective habitat management across the state.
Pam and Kim Bergman of Three Mile Creek Ranch have been selected for this award based on the following achievements:
When purchased in 1996, the 685 acre hill country property was covered in dense ashe juniper (cedar) trees. The Bergmans began asking the advice from natural resource professionals and quickly developed a plan.
The Bergmans selectively hand cut cedar on 500 acres and hand seeded the cleared areas with native grasses.
The thick grasses that developed due to the juniper clearing have increased groundwater recharge, improved stream flow/water quality in the creek and improved soil health.
They utilize all five of Aldo Leopold's famous tools for habitat management and income production to restore the landscape.
The Texas Youth Hunting Program has been utilized to help control white-tailed deer numbers, and wildlife management classes from Tarleton State University come to the ranch several times per year to learn wildlife, watershed and land management techniques.
As a confirmation of their long term stewardship goals, the Bergmans donated a 685 acre conservation easement on the ranch to insure the land will remain natural and intact forever.
For more information about the Bergmans and their decision to create a Conservation Easement please visit our videos page where you can watch a short film featuring Three Mile Creek Ranch.
posted on 5/1/2017